a guide to Google Ad grants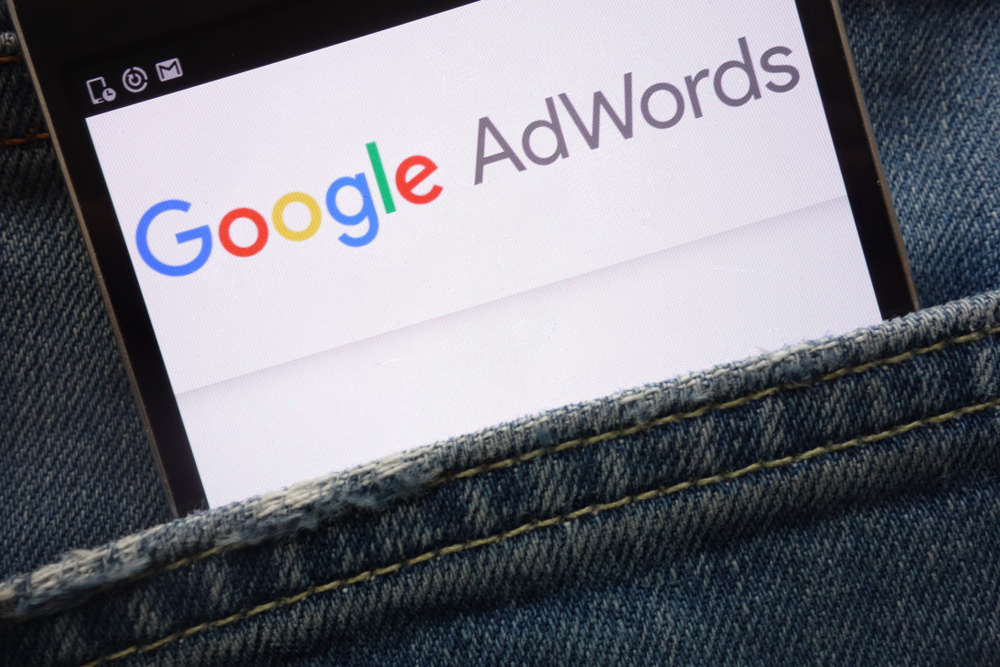 Get your charity advertising for free on Google with this guide to Google Ad grant accounts, written by John Onion and upated by Chris Jay from upriseUP…
basics of Google search & Pay Per Click (PPC)
To us, search engine marketing is the holy grail of advertising. More traditional means of promotion is often perceived as a nuisance by the very audience it attempts to cultivate. However, search engine marketing targets only users looking for that product or service – at the very time they are looking for that product of service. It actively enhances the user experience.
Google is by far the most dominant search provider, covering over 80% of the UK market, and it is the largest search engine in most pockets of the world.
The good news for charities is that Google offer ongoing grants of $10,000 per month for PPC advertising on its search engine. Today, this represents £7,848 in value.
The grant is available to any charity that fits Google's rather wide selection criteria, regardless of size. For most people looking to promote a charity, it represents the quickest and easiest means to do so.
Not only is the Google Ad grant the lowest hanging fruit, but for most organisations it is also the juiciest. Benefits vary from sector to sector, but for most charities the practical implications of the grant can be over 250 daily users, targeted by their search activity (exactly who the charity is looking to attract): potential beneficiaries, donors, campaigners, job applicants, or people looking for a charity to support by doing a physical challenge.
getting started
The Google Ad grant programme is open to any registered charity that fits Google's selection criteria, regardless of size. Google reserves the right to turn charities down for any reason, including the organisation's politics, and does not accept hospitals, health care providers or schools. However, refusal from Google is rare.
Assuming you're eligible, the first step is to apply for a Google for Non-Profits account.
Once this has been approved, you'll need to submit the pre-qualification form which can be found in the enrolment guide.
After receiving pre-qualification approval, you need to follow the steps laid out in the enrolment guide to set up your account.
After completing this set up you're ready to submit your account for review. The final step in getting yourself a Google Ad grant account.
Once the account has been authorised by the Google grants team (it can take 30 days from submission of the application, although in our experience it is more likely to be reviewed within a week), you will have a $330 value to 'spend' each day in Google Ads.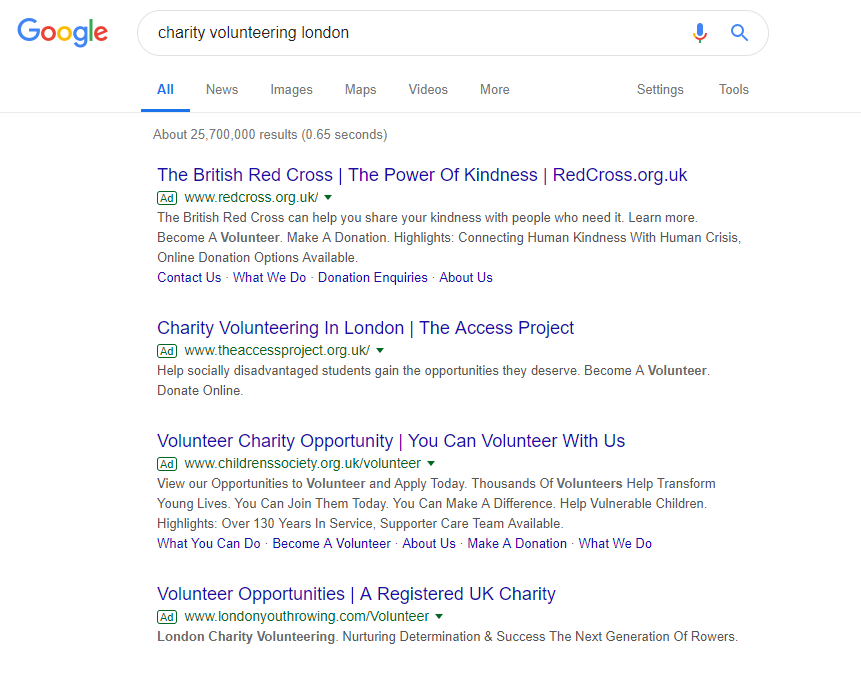 Google search ads appear on the Google search engine on the top and bottom of search results pages. There are restrictions in how advertisers can use their ads, designed to ensure best practise is followed. Also, advertisers using the grant may not appear on search partner sites, nor use Google's content network which allows image ads to be shown on numerous publisher websites. Full guidelines from Google can be found here.
how to develop a Google Ads account
How high up the page Google shows your ad is decided by how well your organisation scores compared with other advertisers. Scores are broken down into two key variables, bid amounts and quality scores (QS).
As there are restrictions to bid amounts from grant accounts, maximising QS becomes the all-important factor in improving your ad rank. The exact method by which Google calculate QS is not disclosed, however it's Google's way of determining the relevancy of your web page to the user's query.
Important factors for determining QS include:
CTR (click-through rate) – how many times your ad will be clicked on once seen. Google Ad grant policies dictate a minimum click-through rate for the account of 5%. However, the latest algorithm updates from October 2018 restricted impressions for anything other than super-focused keywords. From this we have seen CTRs increase up towards 8-9%.
Whether the language in the ad matches the keywords, the search query and is also repeated on the destination page.
The number of users unsatisfied with your landing page that then repeat their search.
The account history – how relevant an organisation's Google Ads account has been proven to Google over time.
Google's incredible success has been on the back of ensuring that to the best of their ability all information they provide to their users is as relevant as possible. The most important tip I can give is this: become as obsessed by the detail as Google. The language used in searches on the internet needs to be relevant to your page, as often the same principles apply. Ad text needs to directly answer the user's query and demonstrate that the site is what they are looking for. Keywords need to be selected in Google Ads to ensure that all possible search options relevant to that page are covered. Also, the Campaign Manager needs to ensure that similar search terms not relevant to the organisation are blocked through the effective use of different match types. For example, a mental health charity working only with children might introduce the word 'Adult' as a negative match keyword in order to filter out irrelevant clicks.
Although charities want to use Google Ads to attract more site visitors, the most common mistake that they make is to throw the net too wide and for their ads to appear in irrelevant searches. If people are clicking on your ads and then turning away, this will have repercussions on your account history and thus your QS. If left unchecked it might make it hard for any of your ads to be seen.
The trick is to look at the things that your organisation does –and that people would be searching for. Examples of successful campaigns are:
Details of the services you provide to beneficiaries: This is key and can include online resources that they can research. One of our clients is Diabetes UK and they are very good at ensuring that good quality information is available on their site so that anyone concerned about the signs of diabetes can find the information they are looking for. This service is then actively promoted through the grant in order to reach out to potential beneficiaries.
Details of your beneficiaries and how you are supporting them: This is also very important for certain charities, especially for appeal campaigns where the issues are being reported in the media. Several of our clients are involved in international aid and if they are responding to a crisis in a particular country, to them people researching that crisis online are potentially a very valuable pool of donors.
Promotion of niche events that are supporting your charity: Restrictions on bid amounts used in the grant ($2 per click if you would like to retain manual control), can make it hard to promote certain events, such as the London Marathon, as many charities are using a separate paid account for popular fundraising. But campaigns based around more unusual 'bespoke' fundraising events such as a mountain walk in Snowdonia or toddler activities in local areas might be able to achieve a better outcome.
Advocacy campaigning functions: If there is a popular story in the media and your organisation is trying to lobby Government to make changes, Google Ads campaigns targeting people searching on these issues can be highly effective and will attract an audience to you that may later become active supporters.
Relevant donation queries: Again, restrictions on bid amounts in the grant account can make being competitive here difficult. By aiming a campaign at niche search terms you will be better able to attract donors. If you are a charity specialising on specific illnesses or a sector of the public then target those search terms. For example, rather than 'donate to a child charity', use keywords such as 'donate to a child autism charity'. By being detailed in the keywords you use, although you are limiting your potential pool of donors, you are actually reaching out much further to those likely to donate to you.
Once campaigns are running, monitor and check your progress continually. For each group of keywords two or three ads should be tested against each other. Following the trial, poorly performing ads should be stopped and new ads written – either variants on successful ads or completely new ads, trialling new messages.
Keywords need to be monitored too and keywords performing poorly, with either a low QS or click through rate (CTR), should be stopped. By strictly applying these rules your account will accrue positive account history which will benefit the performance of all your campaigns.
Lastly, pull through your conversion data from whichever analytics programme you are using. The beauty of Google Ads is that you can see what is converting for you – the keywords and also the ad text. This information is especially important once your account is maximising the potential spend available, enabling you to ensure your charity is achieving the highest possible ROI.
Google Ad grant policy update
Starting from January 2018, Google introduced stringent new policies that all ad grant accounts are required to follow. The full policies are too long to be explained in detail here, but can be found on Google's policy page.
If you have your own account, you may well find our automated Google Ad grant compliance checker useful.
There have been other rules implemented, like not using single word keywords (except under certain circumstances), and not allowing the average account CTR to fall below 5%.
If you would like any more information, upriseUP would be glad to help. We are Google qualified and specialise in the charity sector. We have a proven track record and considerable success in Google Ads development and are one of the Certified Professional Ad Grant Agencies.