Whether you want an entirely new WordPress website design or would like help to improve and update your existing site, we have the experience and expertise to optimise WordPress's wide range of features and transform your online results. 
Located in the heart of central London and with two decades of experience, we're the expert and trustworthy WordPress agency you need by your side. We offer a range of WordPress development/programming solutions that are tailored to your requirements and designed to maximise return on investment.
We believe in a true partnership with clients, and take the time to understand your organisational objectives and ensure your WordPress website design truly meets your needs. With our on demand services, there's no long-term commitment or complex contracts – just a cost-effective and flexible way to reach your digital goals.
Our expert WordPress developers have created WordPress web designs for numerous clients, including: Our WordPress web design and development services include:
High-quality WordPress website design that looks beautiful, meets your objectives and appeals to users
WordPress customisation and theming
In-depth WordPress audits to determine any current website issues and identify high, medium and low priorities
Intelligent integration with other systems such as databases and payment platforms
Long-term management and support to ensure your WordPress site always stays secure, up-to-date and functioning at its best
Expert brand development and graphic design to give you a compelling and cohesive brand identity
Comprehensive WordPress training so you can manage and maintain your site efficiently
Strategic digital marketing to attract visitors to your site
Support to help you engage with new digital opportunities as they arise
A team of WordPress specialists on hand to answer questions and provide support
"Our new website feels modern and bold, and the design captures and strengthens our brand perfectly. Pedalo managed the process in a very professional way, engaging the Anti-Slavery team throughout. We now have a springboard to take our digital communications and fundraising to the next level."
Jakub Sobik
Communications Manager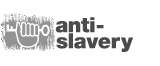 From initial concept to launch, SEO and ongoing support, we partner with you throughout your WordPress project to give minimum fuss and maximum results.
Get in touch now to find out more about our high-quality, transparent and cost-effective WordPress development services.