digital challenges (& opportunities) for membership organisations in 2019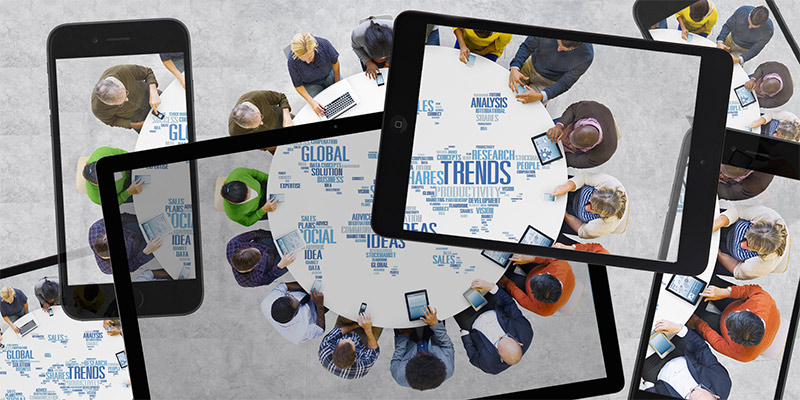 The digital landscape has shifted massively over the last few years, and technological capabilities and member expectations are changing just as rapidly. With increasing use of mobile devices to access information, a plethora of social media platforms and ever-evolving search engine algorithms, many UK membership organisations are struggling to find their footing and achieve success in today's digital world.
We've worked with countless membership organisations over the last two decades, from IOM3 to The Fostering Network and Clinical Skills to the Chartered Institute of Public Relations. And whilst today's world does present challenges, there are also plenty of opportunities to improve your membership offering, increase engagement and boost revenue by taking advantage of everything the digital world has to offer.
Here's what we see as the key digital challenges facing membership organisations in 2019…
the digital landscape is changing
The digital world in becoming increasingly complex, so to ensure your membership organisation remains relevant, it's important to keep up with the latest digital trends:
Multiple devices: People are using vast numbers of devices/browsers, each of which translates and interprets your website code in its own unique way. To enable your site to be accessed by as many people as possible, you need to ensure browser compatibility.
Mobile-first: Since 2015, when smartphones overtook desktops as the most popular device for accessing the internet, mobile use has continued to increase. It's therefore advisable to use a mobile-first approach, which means considering mobile devices first when designing/planning any new digital platforms or services, and then working upward to larger screen sizes. Mobile compatibility is also an important search engine ranking factor.
Social media: With social media platforms popping up and disappearing all the time, you need to stay familiar with relevant platforms and decide where it is best to focus your energy in order to engage your members.
Search engine algorithms: Each year, Google changes its search algorithm 500+ times. While most of these changes are minor, it's important to keep up-to-date with SEO or you risk dropping down the search rankings and losing organic traffic. This year, voice search is becoming more important than ever with 41% of adults (and 55% of teens) using voice search daily.
security and data protection is a top priority
In 2016, we found that 50% of membership sites weren't using security protection on their sites, even when payment details were required. With GDPR regulations and increasing consumer concerns about data protection, website security is vital to ensure both legal compliance and foster brand trust. Additionally, Google favours secure websites in its search results as well. Fortunately it's free and easy to implement secure browsing by upgrading to HTTPS on your membership site.
member expectations are higher than ever
The average person picks up their phone 85 times a day and spends at least five hours browsing the web and using apps, according to a study by Nottingham Trent University. Whether it's for grocery shopping, browsing cinema listings or renewing membership, people are increasingly expecting to use technology to find information and perform daily tasks online. You can keep members happy by:
Enabling online joining/payment: Quicker and easier than filling out a paper form or picking up the phone, this means that members can join or renew at any time of the day or night.
Providing an online member zone: A members-only area on your website means you can provide exclusive member resources, allow members to update their details online, and encourage members to connect with each other to form a vibrant and lively community.
Maximising page speed: Around half of consumers expect a webpage to load in two seconds or less, with a one second delay decreasing satisfaction by 16%, so it's important to ensure you have a good website page speed.
Developing creative content: Video, animations and infographics are becoming increasingly popular mediums to share information and encourage member engagement, with 75% of member organisations expecting to make greater use of them over the next year.
Optimising user experience: Make sure your website navigation is clear and well-structured so users can find what they need. It's also important to check for broken links and ensure you have a great 404 error page.
Ensuring ongoing maintenance: Just like a car needs regular MOTs and servicing, websites need ongoing updates to work optimally. Follow our free website maintenance checklist to learn how to keep your site in tip-top shape and ensure it's always meeting member expectations.
personalisation is a must
Users today are accustomed to a high level of personalisation in their online experiences – whether it's being shown relevant ads, seeing suggested social and news posts, or having similar products recommended.
Personalisation is a brilliant opportunity to engage members and ensure they see the most relevant events, news, information and learning opportunities. If your website is integrated with your membership management system or database, you can ensure unique information is provided for each member. From simple membership renewal exactly when membership is about to run out, to personalised e-courses and information about local events, the potential for personalisation is endless.
technology is evolving
One of the biggest challenges for many membership organisations is their legacy database, CRM, billing or other technological system. Many membership organisations have been around for centuries, and the data collected on these systems is vast and invaluable but often it's out of date and not integrated with the organisation's website. Not only does this result in a significantly increased administrative workload, but it also means that member data is not being used effectively. Switching to newer, integrated technologies is a great opportunity for membership organisations to save time and money as well as improve member retention.
In 2019, Artificial Intelligence (AI) is also becoming increasingly important and changing the way the world operates. Membership organisations can take advantage of AI in countless ways – for example, to identify donation habits, to match members for networking purposes, or by using chatbots to respond to member enquiries.
digital thinking should be strategic
Many membership organisations understand that change is needed, but struggle to work out a cohesive digital strategy. Often there is disagreement between stakeholders regarding the purpose of a website. Some organisations don't know where to best spend their time and budget digitally, or aren't sure how to maximise the value of their data. Some find it difficult to reach new members online, whilst others lack a unified look and feel across their digital platforms. Working with a knowledgeable and experienced consultancy partner is a great way to develop a clear digital strategy and destination for your organisation.
in conclusion…
Membership organisations should be asking themselves questions about how they fit into today's online world and provide digital value to their members. With strategic thinking and clever use of digital technology, it's possible to delight members new and old, such that they return to your website again and again – and renew their membership when the time comes. Although this may require some initial investment, and you'll need to keep up to date with digital developments, this can be more than repaid in member revenue and support.
If you'd like to hear more about how we can partner with your organisation and help you overcome digital challenges, please get in touch.