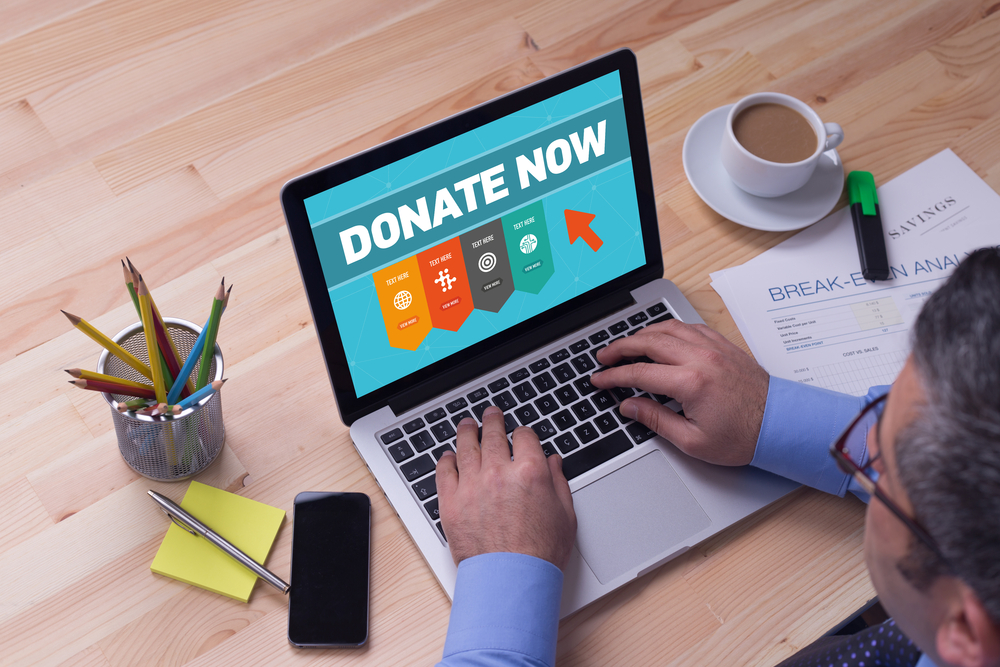 optimising your donation page
We consider how to get the best results from your website donation page:
1. provide different options
Every user is different. Some may not want to make an online payment or give their credit card details, so you should always offer alternative donation methods – such as via telephone or by sending in a cheque.
It's also a good idea to give users options for how much they can donate and how often. Offering regular direct debits, one-off donations, legacy gifts and other options encourages users to part with their cash in the way that's most appropriate for them. The CBM website below is very effective in providing a range of options, with a clean and tidy layout so that users can review the information with ease: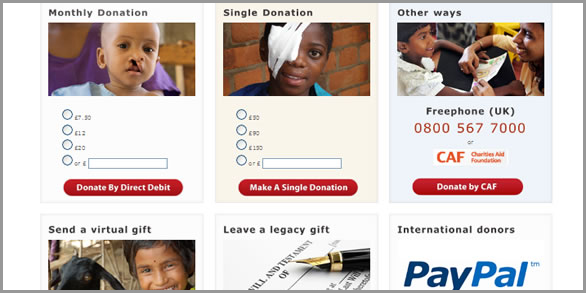 2. reassure donors
A donor should be reassured about how their money will be spent. Using your annual accounts and other financial data, you can highlight what proportion of income is spent on your cause and how much goes towards other things like payment processing fees or fundraising costs. If 90-100% of donations go toward your vital charity work, this is likely to help convince users of the value of their contribution.
It's also useful to show what each donation equates to in terms of making a difference. For example, you could explain that £5 pays for a blanket for a homeless person, £20 covers an employment advice session, and £50 pays for a hostel bed for a week. This helps users visualise how their money is being spent.
3. reduce friction
It's important to make the donation process as seamless and pain-free as possible. Don't include any other calls to action on your donation page as these may distract users and encourage them to navigate away from the page. Minimise the number of clicks a user has to make, and include only the fields you absolutely need in your donation form. If users have to provide too much information or it's too time consuming to complete the donation process, they're likely to drop off.
Google Optimizer is a great free website testing and optimisation tool which can be used to improve your donation page. It allows you to test different versions of your site and see which results in the most conversions/donations, so you can try out different options and find out which donation page is most effective.
4. maintain relationships

When a user makes a donation, it's a good idea to ask if they want to hear more about your charity via email updates or a newsletter. This will help you build up your contact list of donors, and ensure you can keep people up-to-date with developments in your charity, successes in your work, and how donations are being used.
5. maximise traffic
It's all well and good having a great donation page, but unless people get there, you still won't get any donations! Firstly, make sure you have a 'donate' button that appears across every page of your website. It should be eye-catching, placed in a prominent position, and linked to your donation page. This will help your website visitors find and engage with your donation page.
Secondly, think about how you can get traffic to your website in the first place. Social media, PPC advertising, content marketing, email newsletters and search engine optimisation are all good ways to promote your website and encourage people to visit.
6. consider other fundraising options
Finally, not everyone may be able to make a financial contribution to your cause, but your website can still galvanise support in other ways. Consider including other fundraising options to help people raise money for your charity – for example, by suggesting sponsored walks they could take part in, or cake recipes they could make for a bake sale.
Alternatively, you could ask for non-fundraising assistance, such as by directing people to volunteering opportunities, asking users to tweet your latest statistics, or encouraging people to donate clothes, toys or other goods you need – the possibilities are endless!
For further support and advice regarding your charity website, please get in touch and we'll be happy to help.